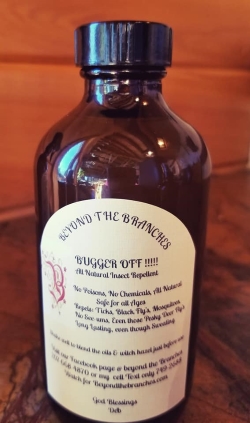 Repels Creepy Crawly Flying Biting Insects. Repels Ticks, Black Fly's, Mosquitoes, "No See-ums" & even those pesky Deer Flies.
4 sizes available:
10 ML size Roller ball glass vial - $4.00 each or 2 for $7
Great for using on face. Especially for young children that hate to have anything sprayed on their face.
2 oz size Fine Mist Glass Spray Bottle - $10.00 each or 2 for $17.00
4 oz size Fine Mist Glass Spray Bottle - $16.00 each or 2 for $29.00
8 oz size Glass Sprayer Bottle - $36.00 each or 2 for $69
8 oz Glass Refill with screw cap - $27.00 each or 2 for $50.00
All Bottles are glass and are Refillable
SAFE for all Ages (see special insect repelling cream for babies, below)
NOTE: The regular recipe can be used on large animals. Horses, large dogs. But the citronella is one of the ingredients. Can be poisonous to small dogs and cats. I have a spray specifically Made for dogs. "Bugger off my Dog" in the 4 oz green bottle. Refill size available with green labels.
Ingredient's; Witch Hazel, Sweet Almond Oil, Rose Geranium, Lemongrass, Lavender, Citronella, Lemon Eucalyptus, Catnip, Rosemary, Cedarwood & Sweet Orange oil.
"I haven't used deet spray in years. Just essential oils. I live in the north woods of Maine and spend most of my days outside in my gardens. I apply once in the morning when I go out and rarely need to reapply unless it's a long day."